Soil Compaction
Courtesy of Multiquip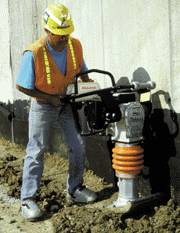 Compactors are a mainstay. From smaller, stand-behind rammers and plate compactors to larger, ride-on equipment, compaction equipment provides both homeowners and contractors with a wide variety of equipment from which to choose.
Choosing the right compactor depends on the job and the soil conditions in your area. Multiquip, one of the rental industry's leading provider of tools and equipment has prepared an informative Soil Compaction Handbook to make it easier for homeowners and contractors to get the most of their compactor rental.
Click here to download the printable Soil Compaction Handbook.
Visit these links for additional resources
Clicking on any of the above links will open a new browser window and direct you to independently managed World Wide Web Sites which are not affiliated with this rental store. While every effort has been made to evaluate the sites to which we link, we cannot control the content that may appear on these or related links.